Download
Download Premium Assets
Migrating from TAM to EPIC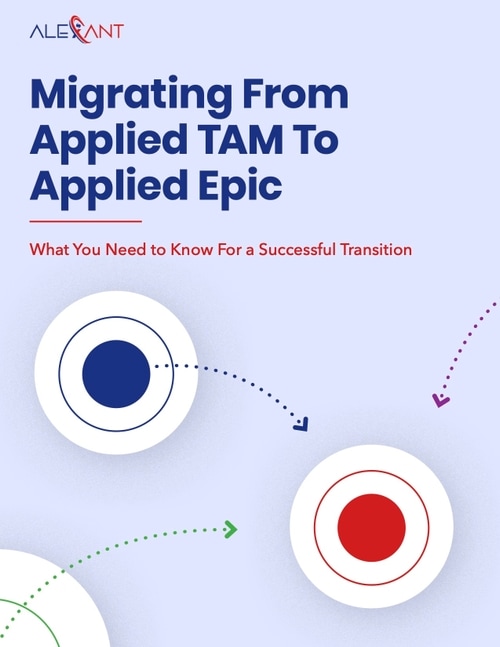 What You Need to Know for a Successful Transition
Change is hard, especially when it comes to migrating from Applied TAM to Applied Epic. With that said, change can be worth the time and effort when the result is streamlined operations, reduced liability risk, and more profitable client servicing.
The Benefits of Migrating
LOWER E&O EXPOSURE
IMPROVED REPORTING
STREAMLINED CLIENT SERVICING
MORE EFFECTIVE CROSS-SELLING
This Guide Will Give You
An understanding of why you should migrate from TAM to Applied Epic
A step-by-step process to follow for a successful migration: from planning to implementation
A week-by-week walkthrough of what to expect during the transition
An overview of how to effectively engage a partner like Alexant for success
Knowing your Client Retention is Critical to Profitability
One of the most important Key Performance Indicators (KPI) affecting long-term Agency profitability is regular tracking of client retention. Yet many Agencies rarely run this report. The reason for this is simple: up until now, such reporting has been difficult and time-consuming. The Alexant Retention Macro changes this, making the running of this report much easier.
The Benefits of Migrating
Save Time and Gain Insight on your book of business
Learn how retentions are affecting your profitability
Establish Better Processes with rapid reporting
Gauge the effectiveness of your retention efforts
This Macro Provides
Calculations for Retention, New Business, Lost Business, and the differences in Retained Accounts

Use of Production or Billing Screen Data
An easier way to analyze and maintain Client Retention
11 Page Step By Step Guide Included